Sergio Ramos García (Spanish pronunciation: [ˈseɾxjo ˈramoz ɡaɾˈθi.a]; born 30 March 1986) is a Spanish footballer who plays for Real Madrid and Spain.
Mainly a right back, he can perform equally as a central defender. After emerging through Sevilla FC's youth system, he went on to be a defensive mainstay for both Real Madrid and the Spanish national team, gaining his first cap at the age of 18.
* 1 Club career
o 1.1 Sevilla
o 1.2 Real Madrid
* 2 International career
o 2.1 International goals
* 3 Statistics
o 3.1 Club
* 4 Honours
o 4.1 Club
o 4.2 Country
o 4.3 Individual
* 5 References
* 6 External links
Born in in Camas, Seville, Andalusia, Ramos began his career at local side Sevilla FC, emerging through the club's youth system alongside Jesús Navas and Antonio Puerta. He made his first team - and La Liga - debut on 1 February 2004, coming on as a second half substitute in a 0–1 loss at Deportivo de La Coruña.
In the 2004–05 season, Ramos appeared in 31 games as Sevilla finished sixth and qualified to the UEFA Cup, netting in home fixtures against Real Sociedad (2–1) and Real Madrid (2–2).
In the summer of 2005, 19-year old Ramos was purchased by Real Madrid for €27 million, a record for a Spanish teenager He was the only Spanish player brought in during Florentino Pérez first stint as Real Madrid president.
At the club, Ramos was awarded the number 4 shirt, previously worn by team captain Fernando Hierro. On 6 December 2005, he scored his first goal for the Merengues, in a 2–3 UEFA Champions League group stage loss at Olympiacos FC.
Ramos (in white) against Valencia.
During his first seasons, Ramos played as centre-back, being also used as an emergency defensive midfielder on occasion. However, with the arrival of Christoph Metzelder and Pepe in the 2007–08 season, he was again relocated to right back, whilst displaying a goal-scoring instinct unusual to many defenders, netting more than 20 overall goals in Real Madrid's shirt during his first four seasons combined.
Ramos celebrates with his teammates.On 4 May 2008, Ramos assisted Gonzalo Higuaín in the 89th minute against CA Osasuna in an eventual 2–1 away win, the match that sealed Real Madrid's 31st league championship. On the final day of the season, he scored twice in a 5–2 home win against already relegated Levante UD, one through a header and another after an individual effort, taking his league tally to five.
Real Madrid'
Real Madrid'
Real Madrid'
Real Madrid'
Real Madrid'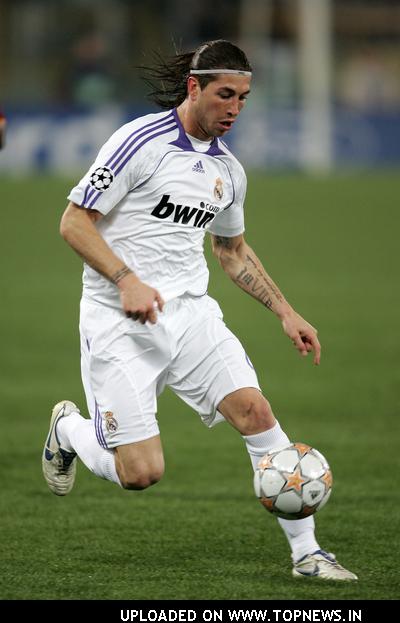 Real Madrid'
Real Madrid'
Real Madrid'
Real Madrid'
Real Madrid'
Real Madrid'
Real Madrid'
Real Madrid'
Real Madrid'