Xavier Hernández i Creus, commonly known as Xavi (Catalan pronunciation: ˈʃaβi(born 25 January 1980 in Terrassa, Barcelona, Catalonia) is a Spanish football player who plays as a midfielder for FC Barcelona.Widely considered among the finest play-makers in the world, Xavi was named the official Man of the match of the 2009 Champions League Final as he helped Barcelona defeat Manchester United to win their third Champions League title. He was named Player of the Tournament by UEFA at UEFA Euro 2008.In all he has been capped 99 times for the Spanish national team, with whom he won the 2010 FIFA World Cup.
He is regularly cited among the best central midfielders in modern football.
* 1 Club career
o 1.1 1998–2004
o 1.2 2004–2008
o 1.3 2008–09 season
o 1.4 2009–10 season
o 1.5 2010–11 season
* 2 International career
o 2.1 World Cup 2010
* 3 All-time club statistics
o 3.1 International appearances
o 3.2 International goals
* 4 Honours
o 4.1 Club
o 4.2 Spain
o 4.3 Individual
* 5 References
* 6 External linksXavi with FC BarcelonaXavi is a product of Barcelona's youth system and has been a regular at Camp Nou since the age of 11. He quickly made his way through the youth and reserve teams and was a key member of Jordi Gonzalvo's FC Barcelona B team that won promotion to the Second Division.His progression through the teams earned him a first team debut on 18 August 1998 in the Super Cup final, in which he scored against RCD Mallorca. His début in La Liga came against Valencia CF on 3 October 1998 in a 3–1 victory for Barcelona. Initially featuring intermittently both for the reserve and senior teams, Xavi scored the only goal in a 1–0 victory over Real Valladolid when Barcelona were 10th in the league, sparking a renaissance in form for the club. Sustained impressive performances quickly meant he become a key member of Louis van Gaal's title winning team. An injury to Pep Guardiola in the following 1999–00 season meant that Xavi became Barcelona's principal playmaker, a position he has retained ever since.
He became the vice-captain in the 2004–05 season. In the 2005–06 season, Xavi tore the ligaments in his left knee in training; he was out of action for five months, missing the majority of the playing season, but returned in April and was on the substitutes bench for the 2006 UEFA Champions League Final.
Xavi Hernández
Xavi Hernández
Xavi Hernández
Xavi Hernández
Xavi Hernández
Xavi Hernández
Xavi Hernández
Xavi Hernández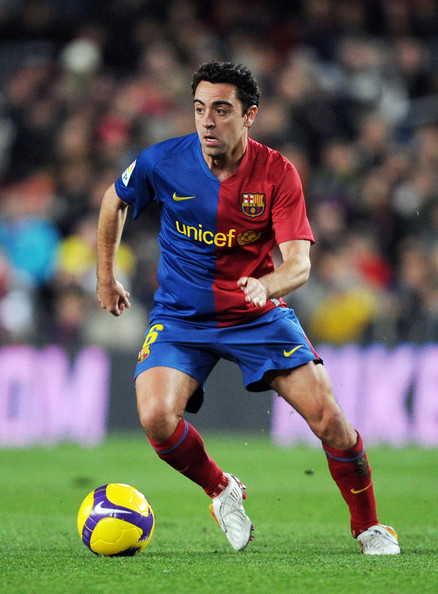 Xavi Hernández
Xavi Hernández
Xavi Hernández
Xavi Hernández
Xavi Hernández
Xavi Hernández
Xavi Hernández
Xavi Hernández
Xavi Hernández
Xavi Hernández
Xavi Hernández
Xavi Hernández
Xavi Hernández