Caroline Wozniacki (born 11 July 1990) is a Danish professional tennis player. On 11 October 2010 she became the World No. 1 on the WTA Tour. After a single week as No. 2 in February 2011, she ensured enough points to become No. 1 again. She is the first Danish tennis player to hold the top ranking position and 20th overall.
Since her WTA debut in 2005, she has improved her year-end ranking each year until finishing on top in 2010. She has won 13 WTA singles titles as of February 2011, three in 2008, three in 2009, six in 2010 (the most since Justine Henin in 2007), and one in 2011. She was runner-up at the 2009 US Open and the 2010 WTA Tour Championships in Doha to Kim Clijsters. She won the 2006 Wimbledon Girls' Singles, but has yet to win a Women's Grand Slam title. She also holds two WTA titles in doubles.
* 1 Career
o 1.1 2005
o 1.2 2006
o 1.3 2007
o 1.4 2008
o 1.5 2009
o 1.6 2010
o 1.7 2011
* 2 Personal life
* 3 Career statistics
o 3.1 Grand Slam finals
+ 3.1.1 Singles: 1 (0–1)
* 4 Singles performance timeline
* 5 Awards
* 6 References
* 7 External links
Wozniacki won several junior tournaments in 2005, including the Orange Bowl tennis championship.[6] She made her debut on the WTA Tour at Cincinnati's Western & Southern Financial Group Women's Open on 19 July 2005, losing to the top-seeded and eventual champion Patty Schnyder in the first round. In the Nordea Nordic Light Open, her other WTA tournament of the year, she lost to Martina Suchá in the first round.
In 2006, she was the top seed at the Australian Open (junior girls' singles), but lost the final to eighth-seeded Anastasia Pavlyuchenkova of Russia. She was seeded second with partner Anna Tatishvili in the doubles tournament, but the pair was knocked out in the semifinals by the French-Italian pair of Alizé Cornet and Corinna Dentoni, who were seeded eighth.In February at the Memphis, she reached her first WTA Tour quarterfinal, beating Kristina Brandi and Ashley Harkleroad before losing to third-seeded Sofia Arvidsson of Sweden.
Caroline Wozniacki
Caroline Wozniacki
Caroline Wozniacki
Caroline Wozniacki
Caroline Wozniacki
Caroline Wozniacki
Caroline Wozniacki
Caroline Wozniacki
Caroline Wozniacki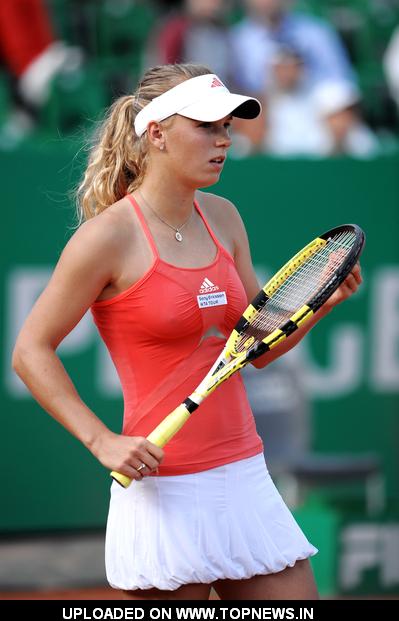 Caroline Wozniacki
Caroline Wozniacki
Caroline Wozniacki
Caroline Wozniacki
Caroline Wozniacki
Caroline Wozniacki
Caroline Wozniacki
Caroline Wozniacki
Caroline Wozniacki
Caroline Wozniacki
Caroline Wozniacki
Caroline Wozniacki